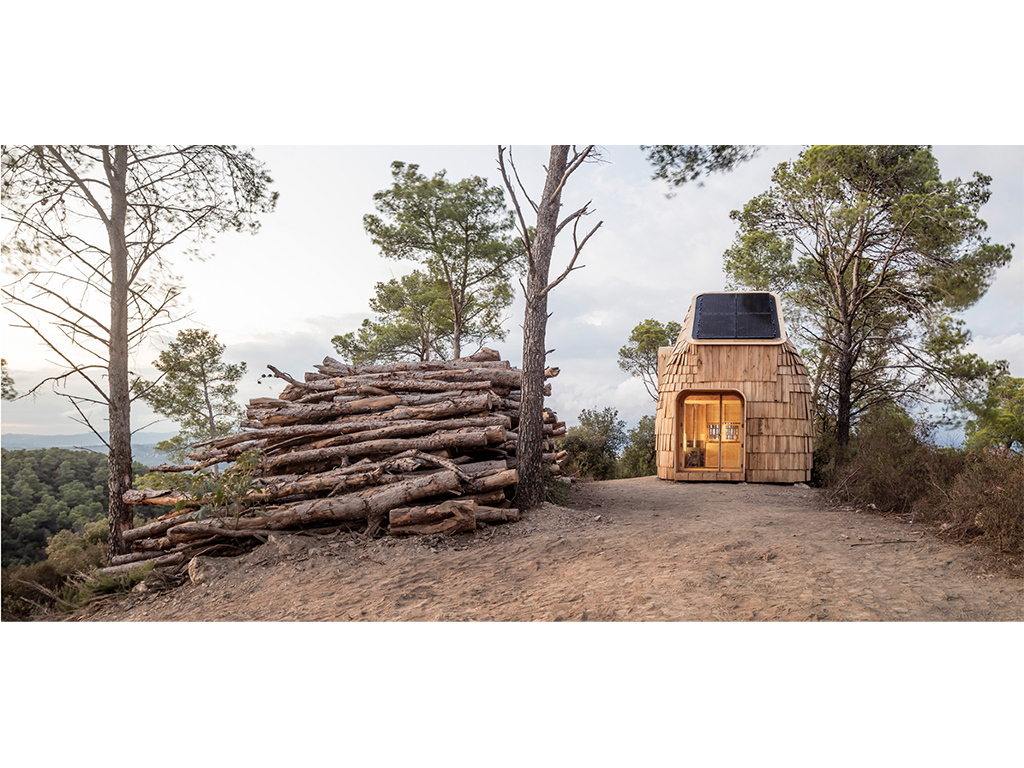 The Ecohouse V01 Prototype (The Niu Haus) is the collective final project of the Institute for Advanced Architecture of Catalonia's (IAAC) 2018-2019 Master of Advanced Ecological Buildings program (MAEB). The program is an immersive experience of learning by living in which students engage with the complete seasonal cycle as residents for 11 months at Valldaura Labs, a XIX-century estate renovated to host domestic spaces, a studio and auditorium backed by permaculture facilities, a digital fabrication lab and carpentry workshop in the midst of the 8,000 hectare Collserola Natural Park yet just 10 km from Barcelona's center. In the program's 2018 – 2019 inaugural edition, 19 participants from 10 different countries spent 6 weeks designing and 8 weeks fabricating and assembling the Ecohouse V01 Prototype with the support, guidance and technical assistance of sponsors, specialists, consultants and instructors.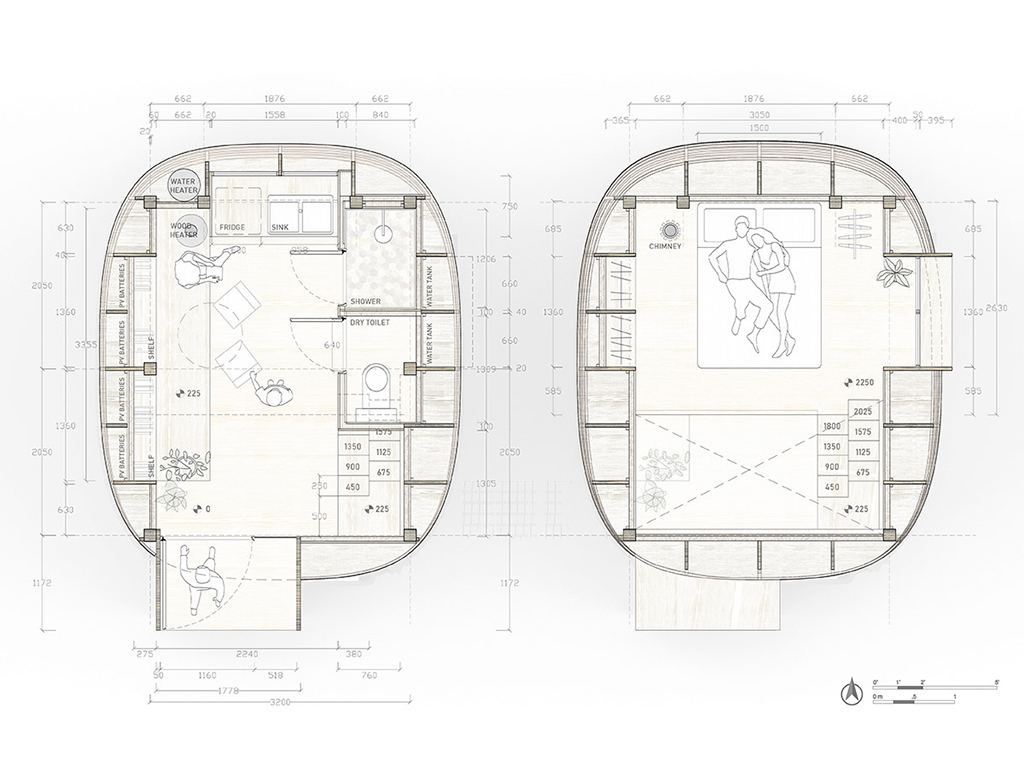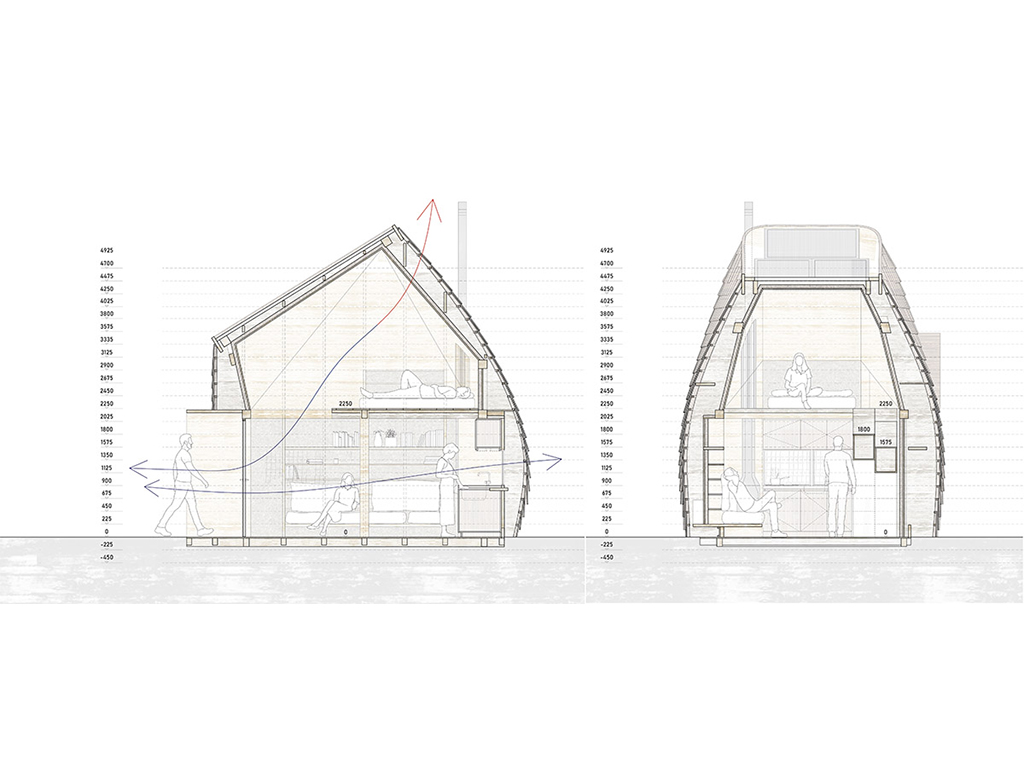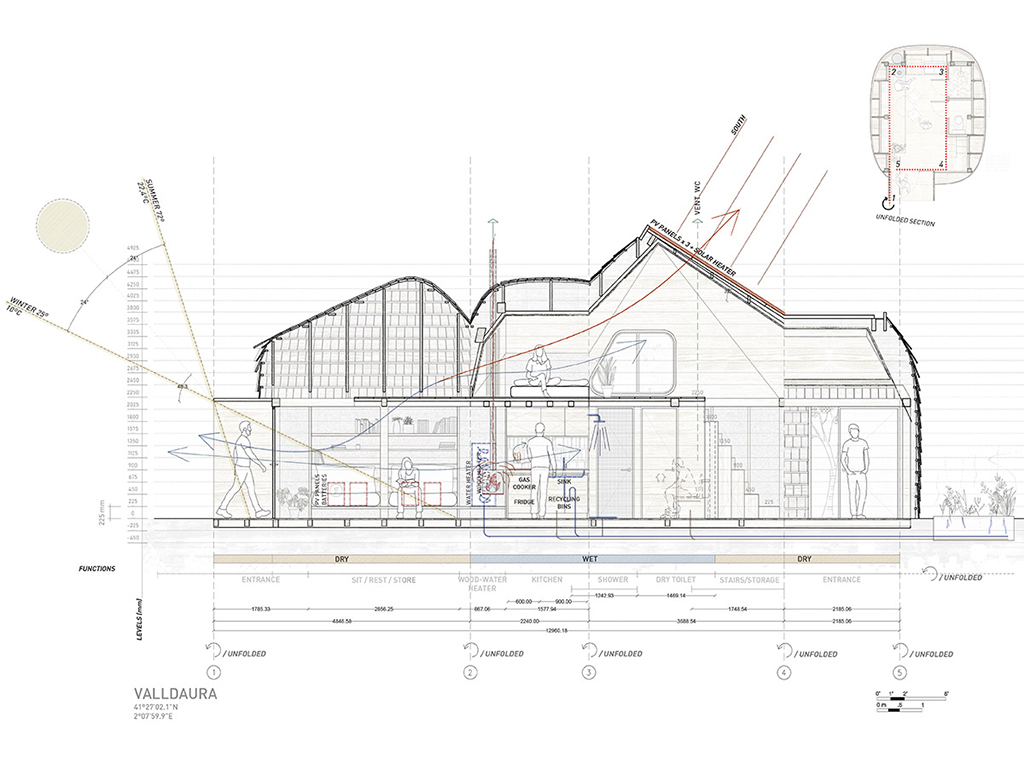 The Ecohouse V01 Prototype showcases many inclusive, innovative, environmentally aware and self-sufficient solutions, including: an integrative design, synthesizing inputs from across the diverse building cultures and systems of the international student body; a fully traceable primary structure, fabricated completely from zero km pine harvested from the Valldaura forest; translation of a low-tech, universally established shingling system into a morphologically responsive, materially optimized envelope using advanced computation and fabricated from zero km oak harvested from the Vallldaura forest; and fully off-grid and self-sufficient metabolic systems.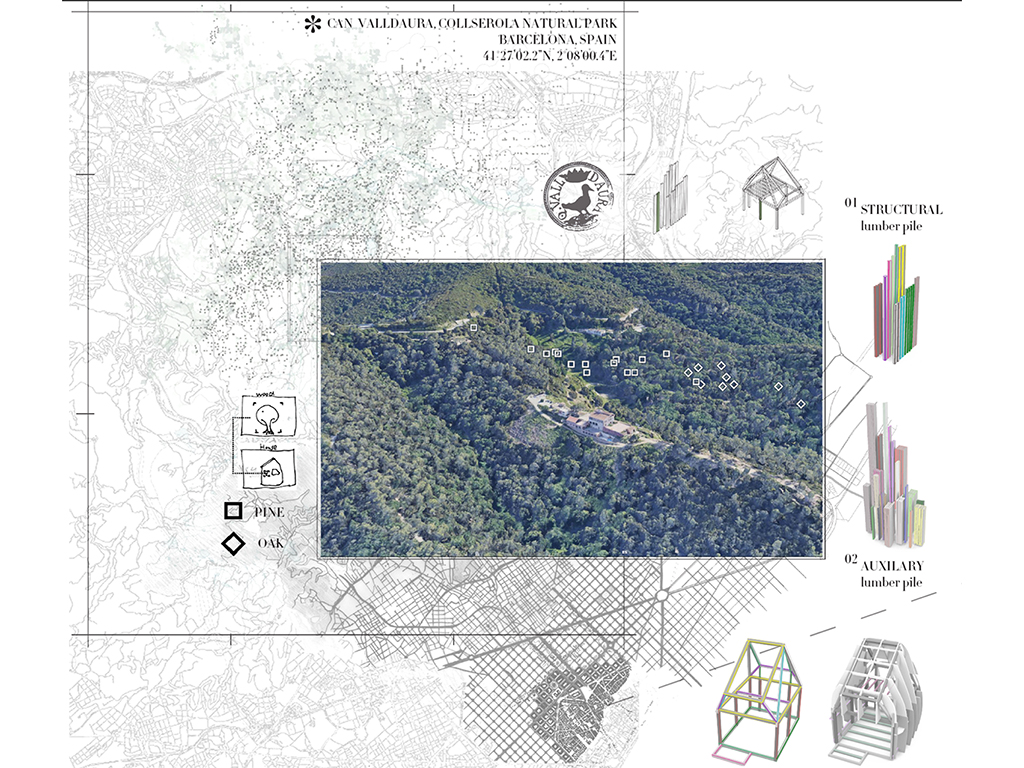 The Ecohouse V01 Prototype is thus a tiny house proposing many big ideas, including a more ecologically aware system of design, construction and lifestyle.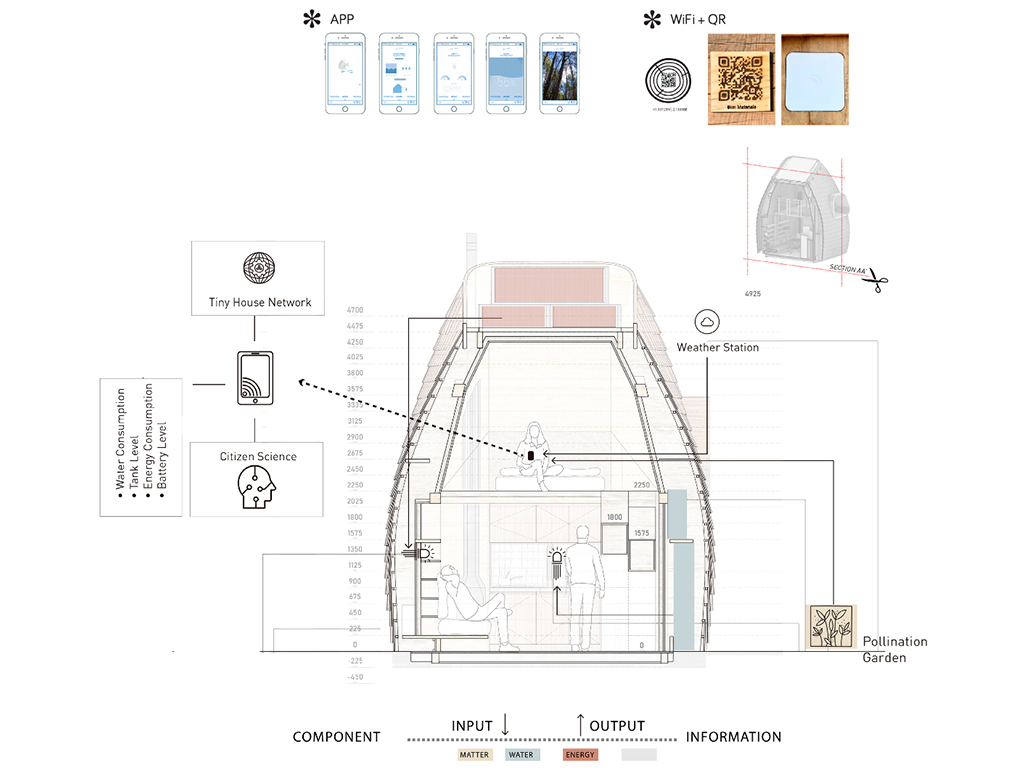 One of the significant factors in the design and construction of the Ecohouse V01 prototype is the conscious effort to reduce the building's ecological footprint through intelligent solutions in material use, transport and production. The Ecohouse V01 Prototype team made advantageous use of a harvest of timber from the Valldaura forest to produce the structure and envelope. In addition to being 0 km materials, the design further reduces the ecological footprint by limiting the processing and production of materials to local sponsors or in-house production at the Valldaura Labs carpentry and fabrication facilities. The result is locally harvested, locally processed and internally produced timber pieces which are innately beautiful – both because of the valuable timber, but also because of the system through which they were produced. Furthermore, each structural piece can be traced back to the exact location and specimen of tree it originated from. An engraved QR code displays this information to the user, in addition to the amount of energy and carbon the piece embodies.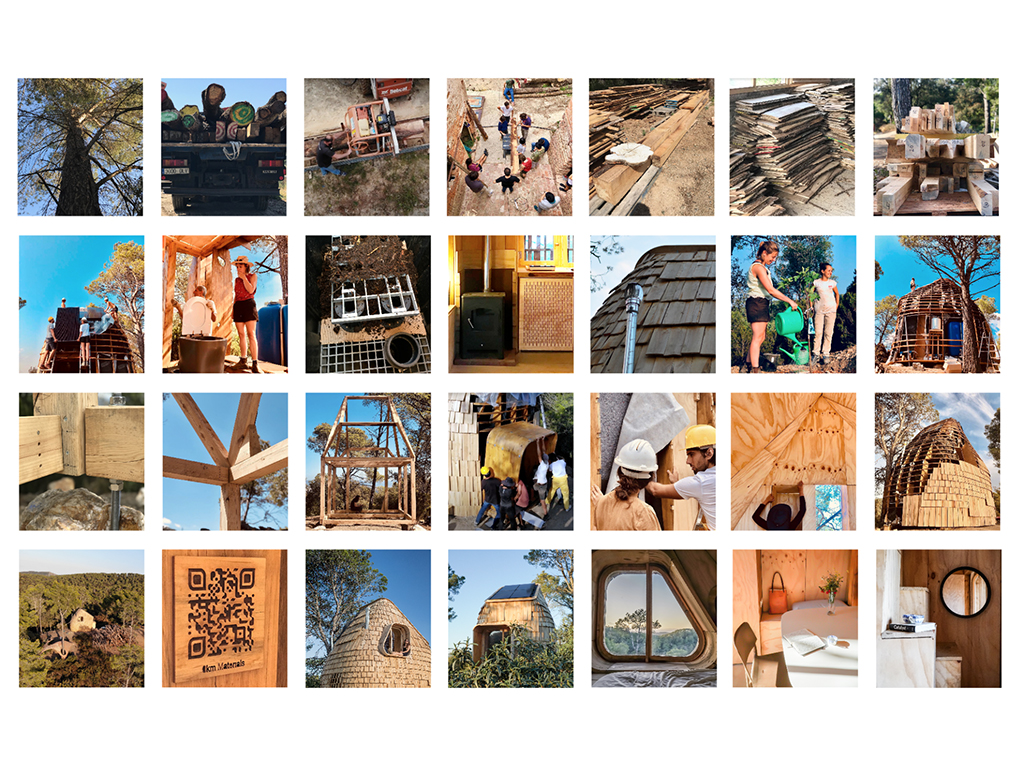 The Ecohouse V01 Prototype privileges a fully off-grid energy system, powered by 4 PV panels with a combined capacity of 1200 watts. A dry toilet that composts waste with a cultivated microbiome is showcased for the first time in this project. The Ecohouse V01 Prototype also collects rainwater in a 10,000 liter built-in tank and reuses grey-water to irrigate a small garden. Conditioning is achieved passively by stack and cross ventilation in summer or by a wood-burning stove in winter. The ventilated facade further aids conditioning and provides cavity space for recycled cotton insulation, recycled paper and natural rubber membranes as well as metabolic installations, freeing the interior for comfortable habitation. All of these elements together ensure integrated, self-sustainable performance that can last up to 14 days without resupplying water or 4 days without sun.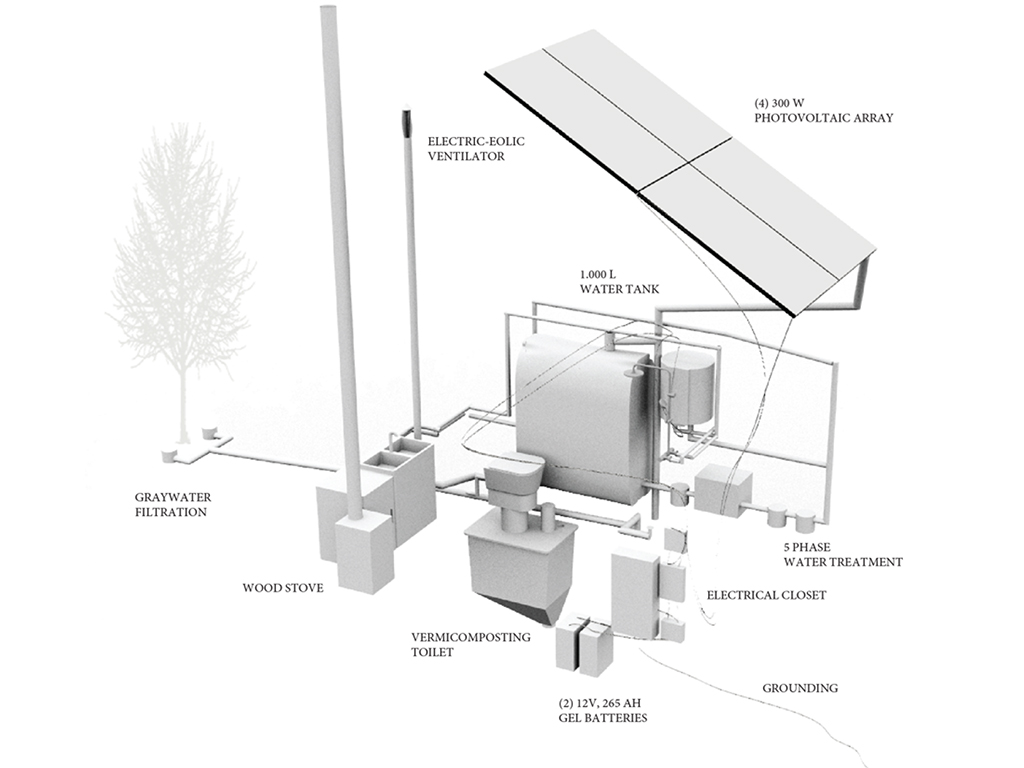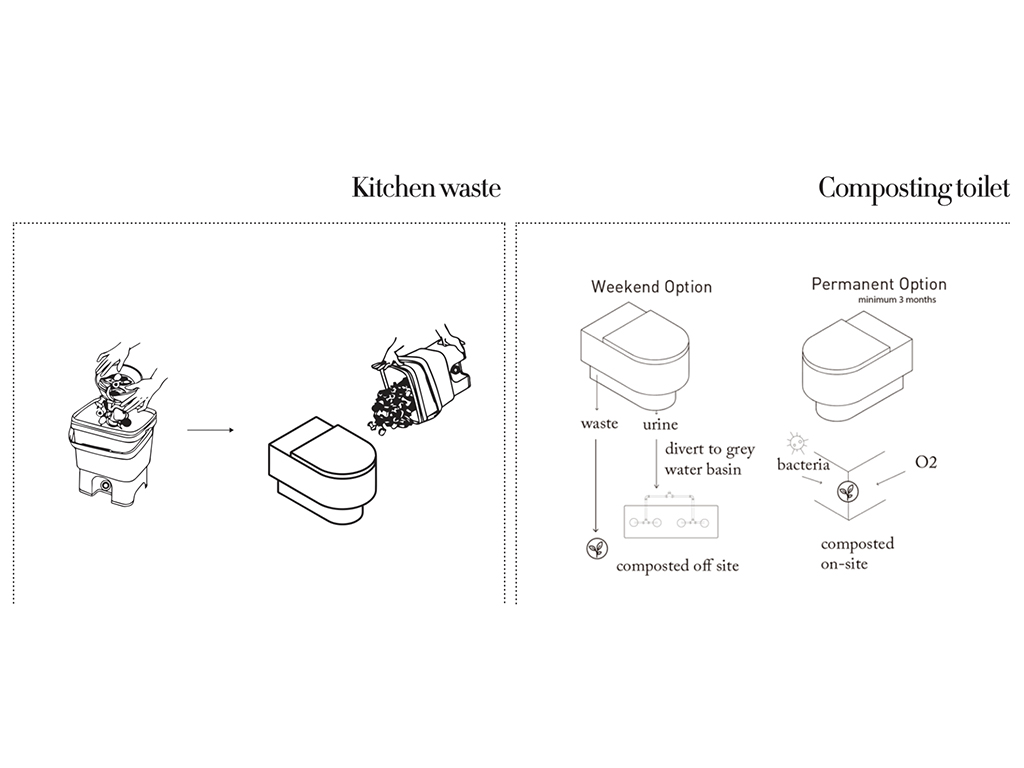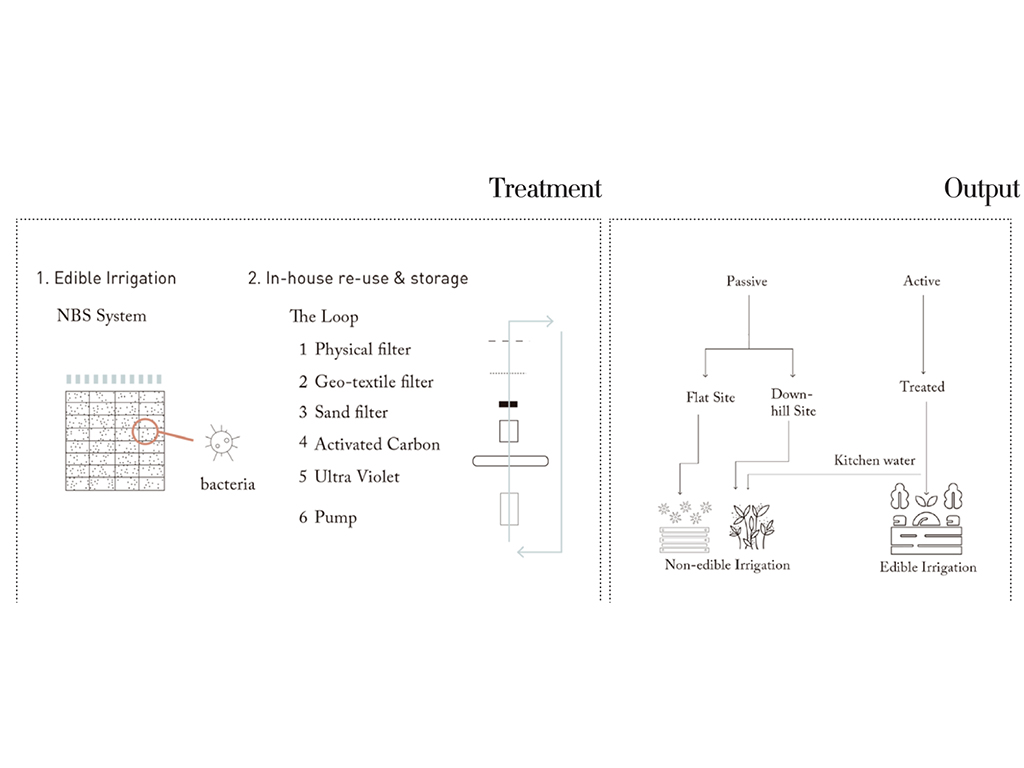 Potential alterations to this system-based design were preconceived to allow for adaptations regarding local stipulations and client preferences.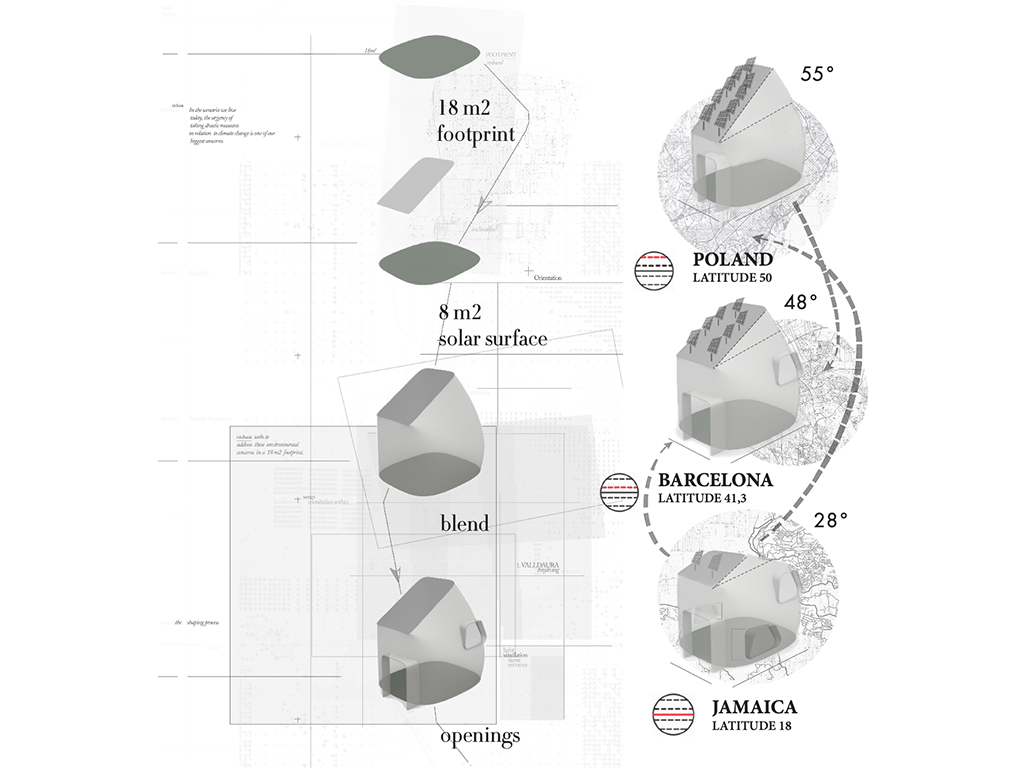 Every aspect of Ecohouse V01 Prototype produces information that can be analyzed and benefitted from. The entire home is designed for the dweller to learn and better connect with their place of living and the surrounding environment.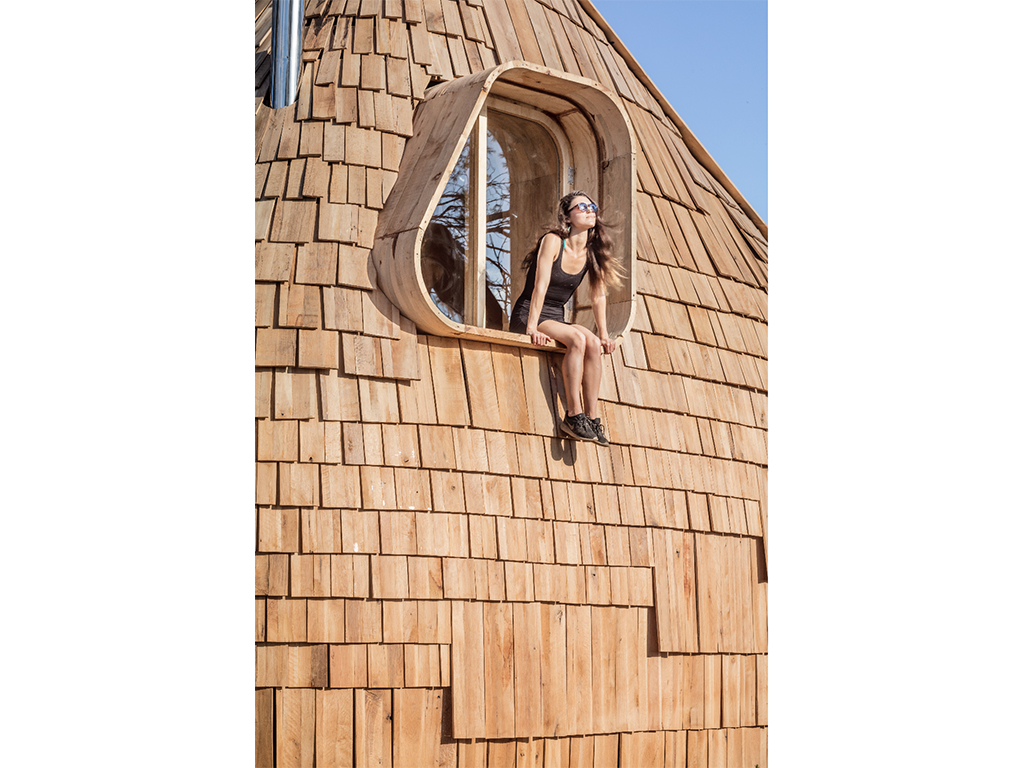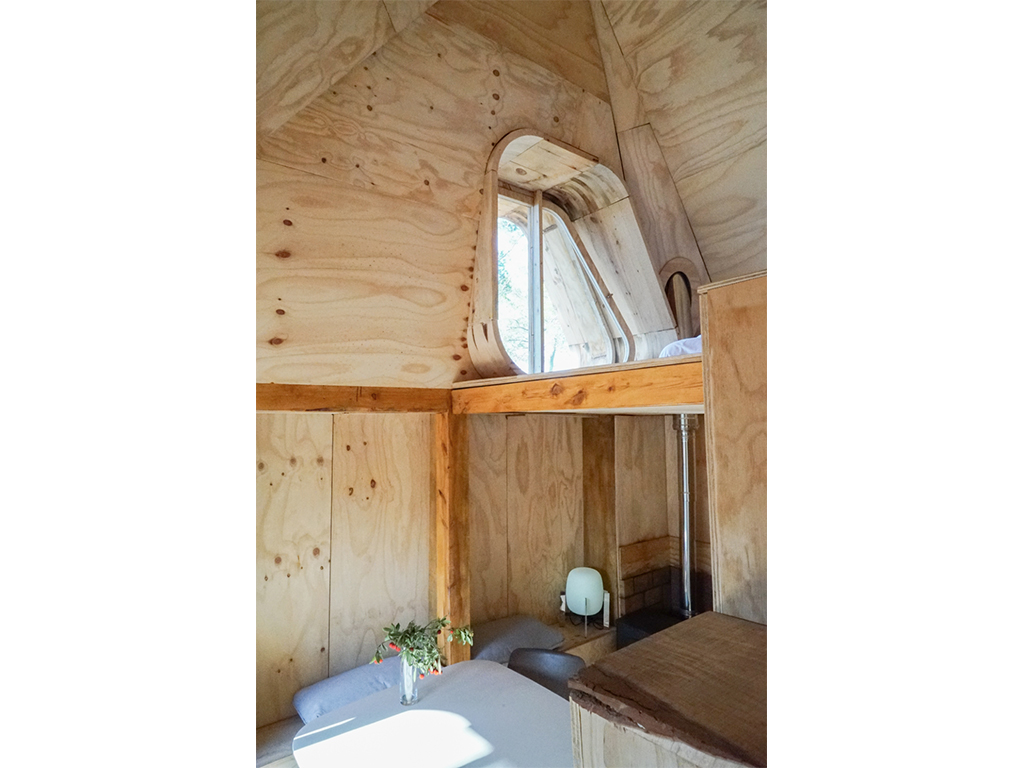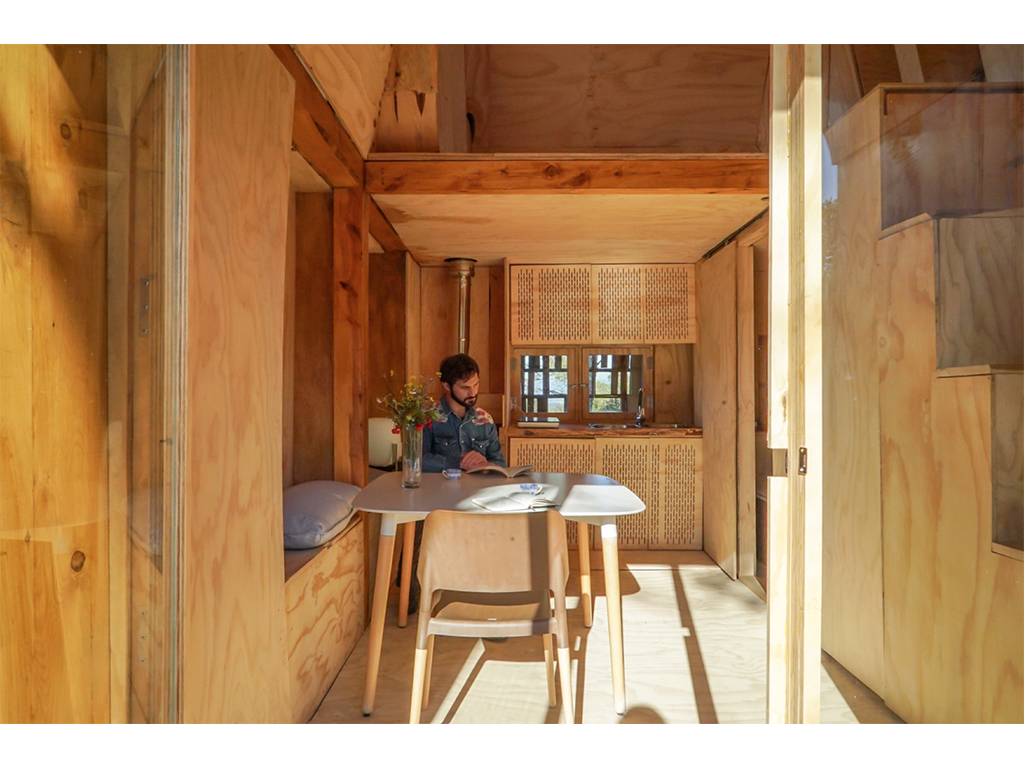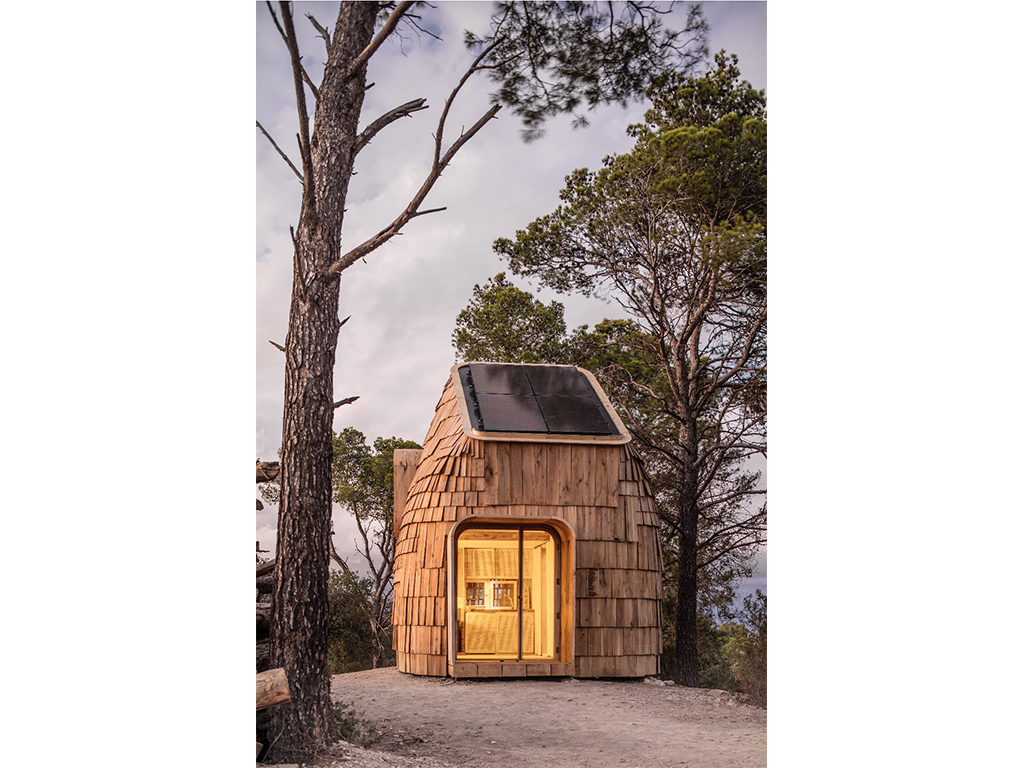 Year Completed: 2019
Duration: 3 months
Site(s): Valldaura Labs, Barcelona, Spain
Coordinates: 41.450209° N, 2.133474° E
Budget: 20.000€
Parent Program(s): Master in Advanced Ecological Buildings (MAEB)
Awards: Bronze Prize in Architectural Design from the Design That Educates Awards 2020, Honorable Mention from the Bee Breeders Microhome 2019 Competition
Directors: Vicente Guallart, Daniel Ibañez
Project Manager: Michael Salka
Operations Manager: Laia Pifarré
Academic Coordinator: Marziah Zad
Construction Administrators: Daniel Ibañez, Marziah Zad, Michael Salka
Digital Fabrication & Prototyping Strategies: Nicolò Gnecchi
Designers (MAEB Students): Pilar Aguirre, Giulia Astrachan, Jesús Bueno Anguita, Julianna Carmona, Vincent Charlebois, Chen Yu-Wen, Chiang Yu-Ching, Pablo Corroto Pradillo, Nour El Kamali, Elisabet Fàbrega R. Roda, Kevin Matar, Qiao Liang, Jorge Luis Morales Fernández, Sinéad Nicholson, Michael Salka, Tian Yuanpei, Yu Zhipeng, Zhang Jie, Zu Heran
Sponsors: Visoren, Tallfusta, Saltoki, Premapreta, Distribució Sostenible, Alter-Entorn, Saneseco, Santa & Cole, Noumena, Mausa, Philips
Consultants: Oscar Aceves, Miquel Rodriguez, Jochen Scheerer, Luis Casado, Gustavo Torralbo, Laura Halminen, Nicu Pribago, Guillem Camprodon, Rodrigo Aguirre, Luis Sola, Gustavo Abreu
Valldaura Labs Staff & Faculty: Laia Pifarré, Marziah Zad, Nicolò Gnecchi, Jonathan Minchin, Jose Antonio Riosalido, Xavier Molons, Jordi Ubach, Francesc Val
IAAC Fablab Staff: Mikel Llobera, Ricardo Valbuena, Alaa Al Baroudi
Volunteers: Chelsea Sherman, Seçil Afşar, Pan Youjian, Tristan Copley,
Banjaman Scatt, Rutvij Patha, Alejandro Caballero, Demi Pradolin, Judy Mahfouz, Alec Nicholson
Photography: Chelsea Sherman, Adrià Goula
Website: https://niu-haus.com/