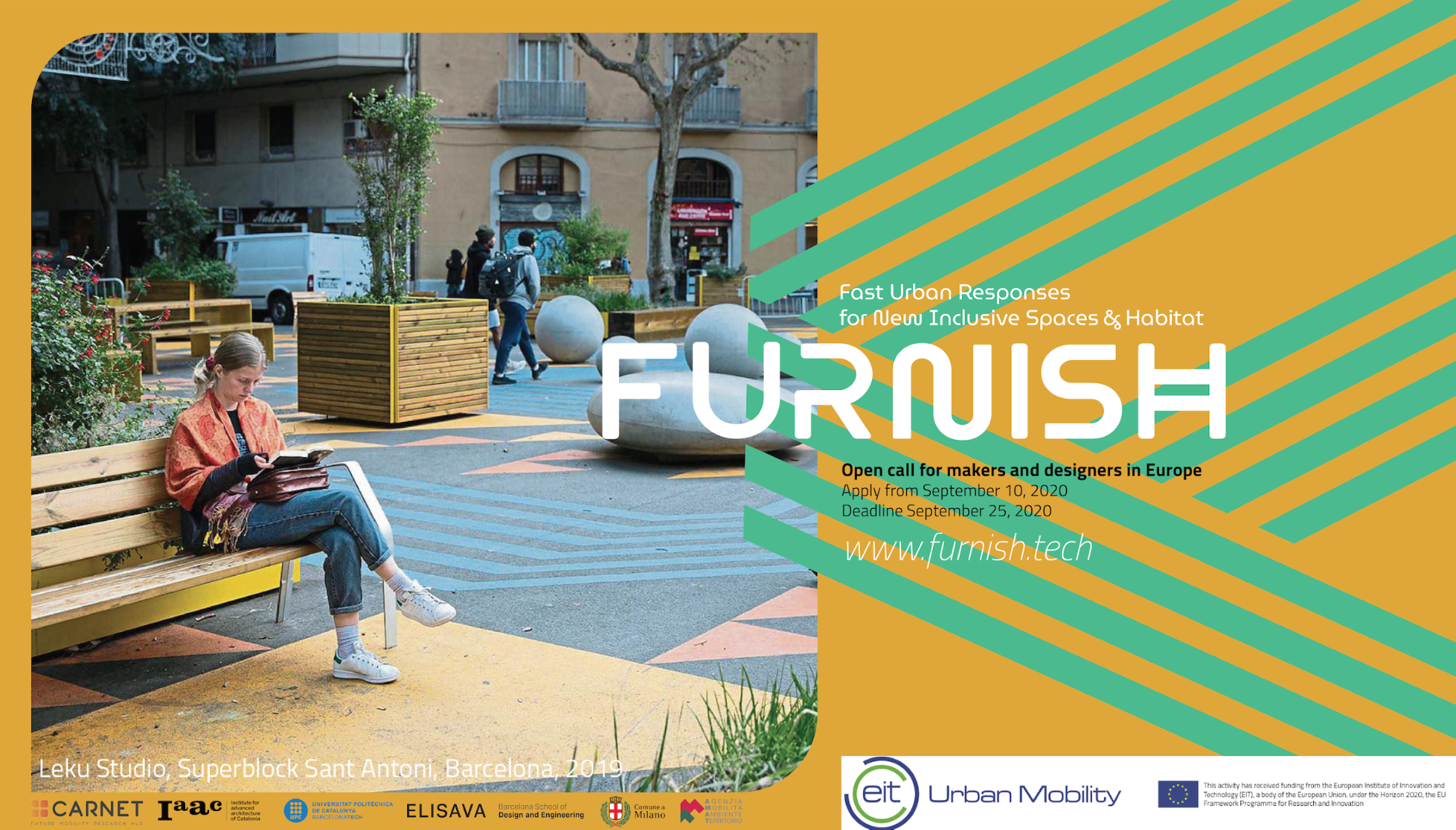 The main objective of the FURNISH project was to generate a series of Mobile Urban Elements (MUE) designed to be temporarily installed in public space, newly expanded to fight against COVID-19 while promoting social cohesion. FURNISH has digitally fabricated and deployed urban elements for the purpose of adapting temporary public spaces to meet the new challenges and opportunities presented by the COVID-19 crisis. FURNISH aims to merge the challenge of gaining more public space through 'tactical urbanism' with local digital manufacturing.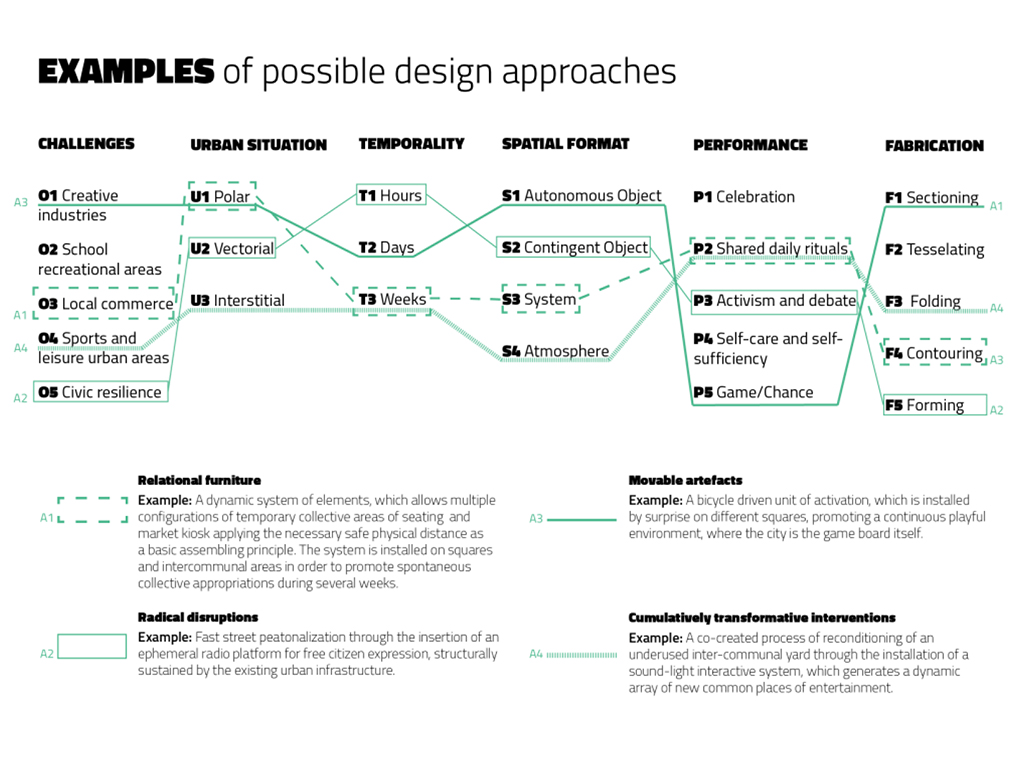 The project started with the launch of an Open Innovation Call for designers and makers to participate within the FURNISH project. The call was opened to teams based in Europe consisting of a design or engineering entity (professional, academic or institutional) and a local digital fabrication facility, supported by the institution (municipality, university, cultural centre, etc.) where the team would place the generated MUE. The call was opened to any transdisciplinary teams that are capable of designing, producing, and managing the implementation of the MUEs in a European city. The call received proposals from 23 teams, spanning 8 countries and all 5 EIT UM territories. From these 23 proposals, the jury members and the FURNISH partners selected 4 final teams. Altogether, seven teams participated in the design and fabrication process – four selected through the open call and three headed by the FURNISH design partners (UPC/Elisava/IAAC).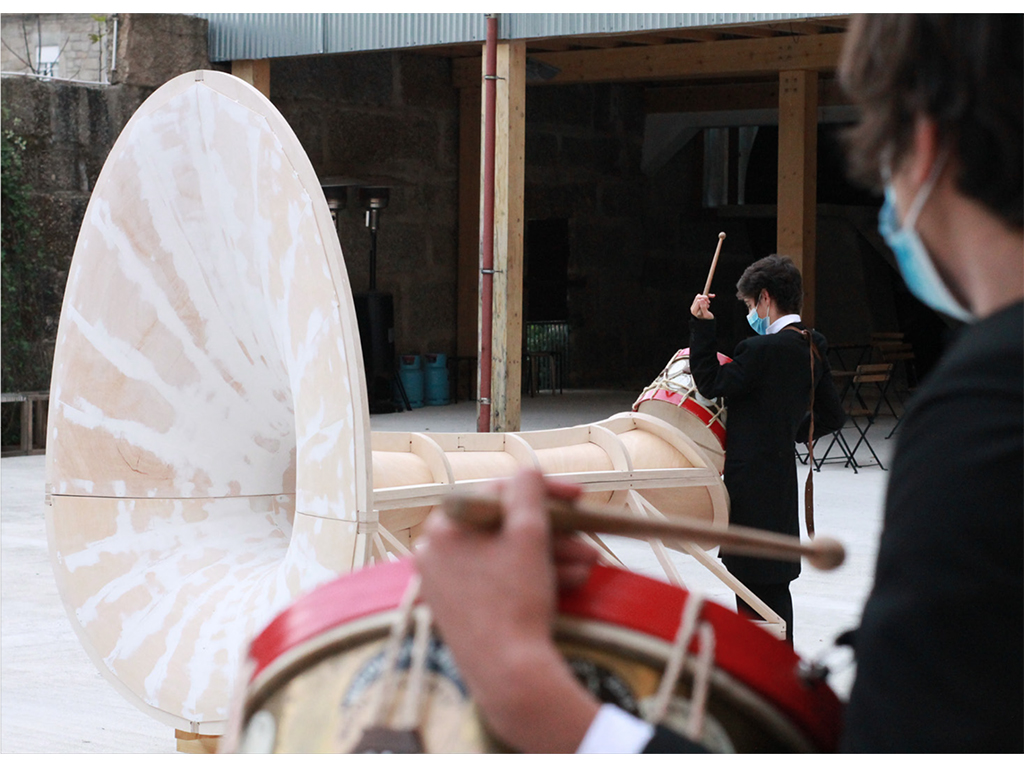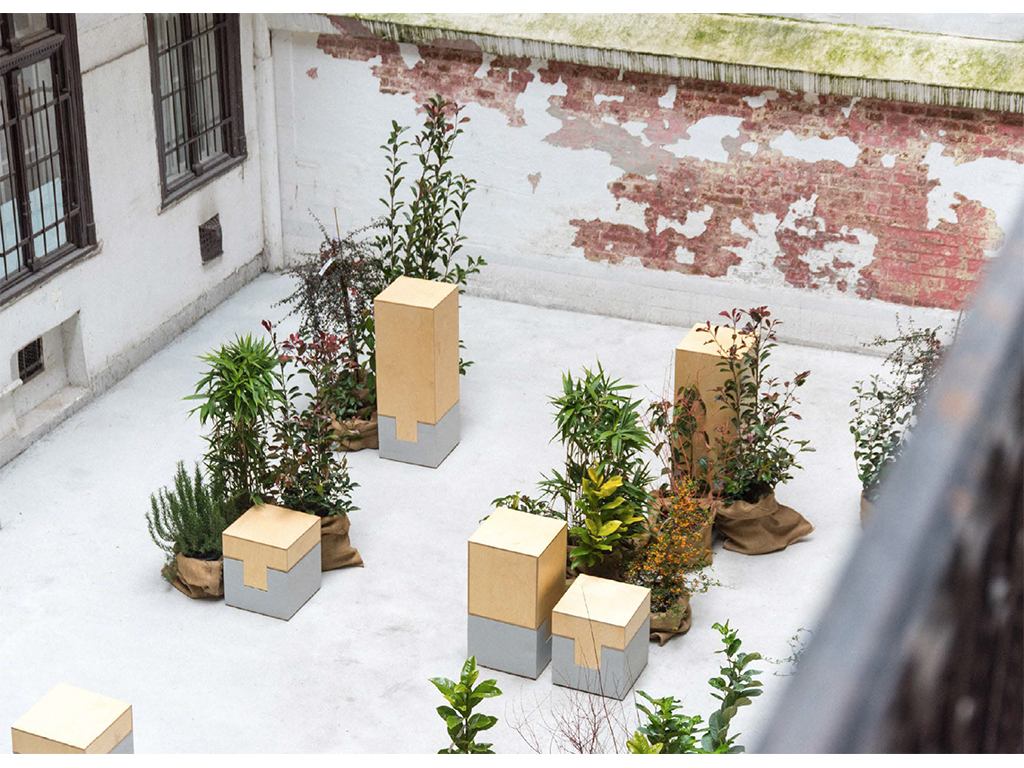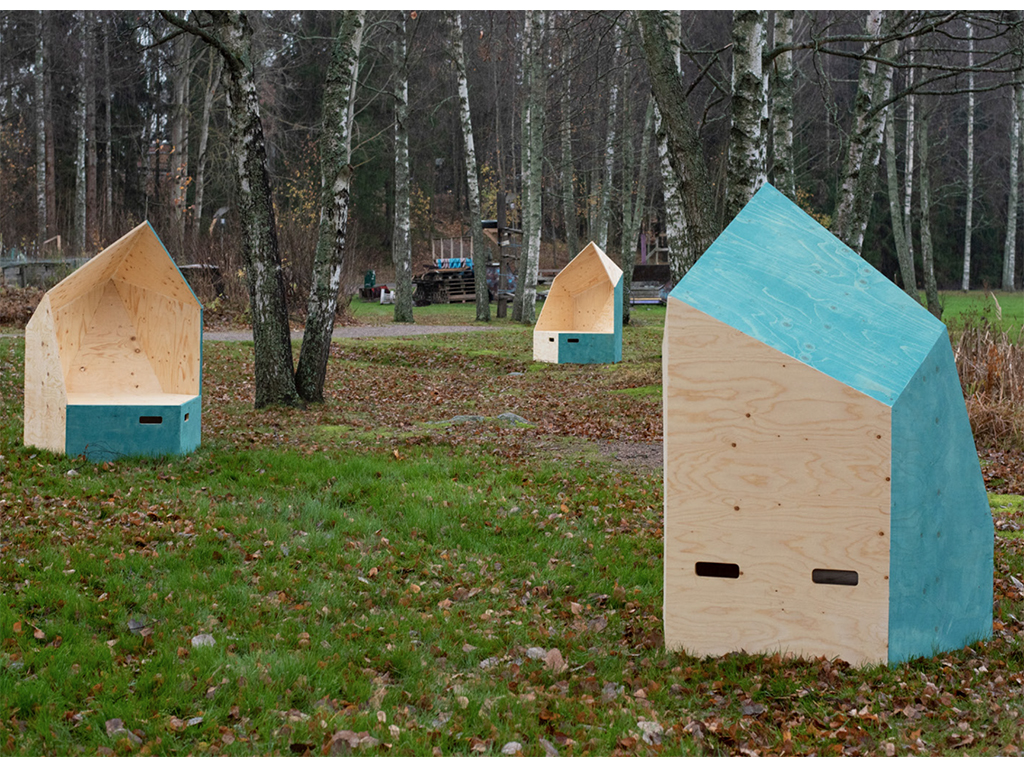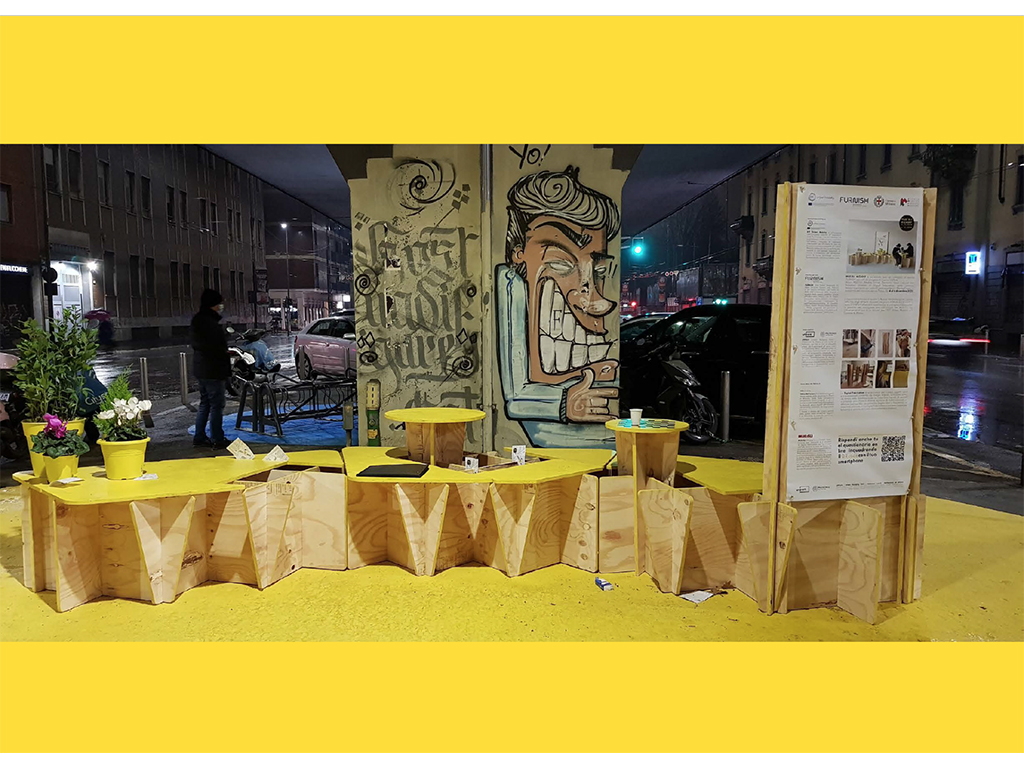 As the project intended to create a common workspace based on collaboration, all seven teams took part in a series of virtual workshops led by the consortium members. The seven design and fabrication teams, which were composed by Fab Labs, research groups, architects, engineers, designers and makers, were able to produce rapid solutions to the urgent spatial problems and opportunities posed by COVID-19 crisis. The teams involved in the project were based in the following European Cities: Espoo, Guimarães, Budapest, Milan and Barcelona. During six weeks, seven prototypes were designed and produced in a series of collaborative workshops featuring all FURNISH teams. Pilot installations were placed in public space at the end of November 2020, when prototypes were tested by end-users in public space (or controlled space simulating public space according to local regulations).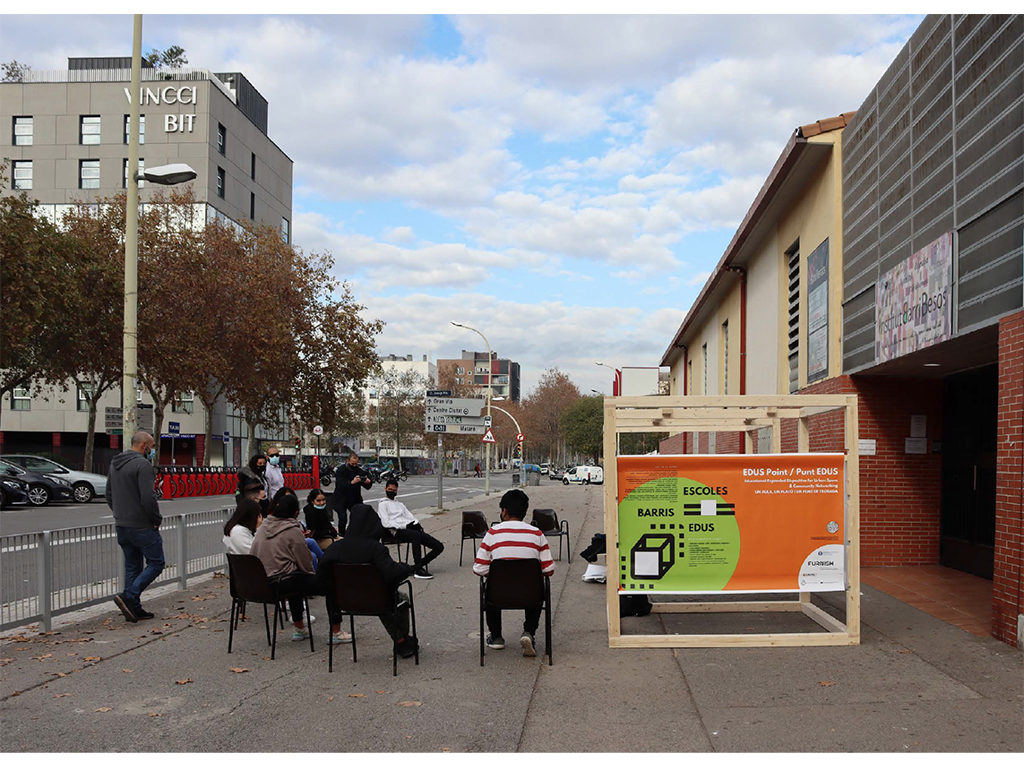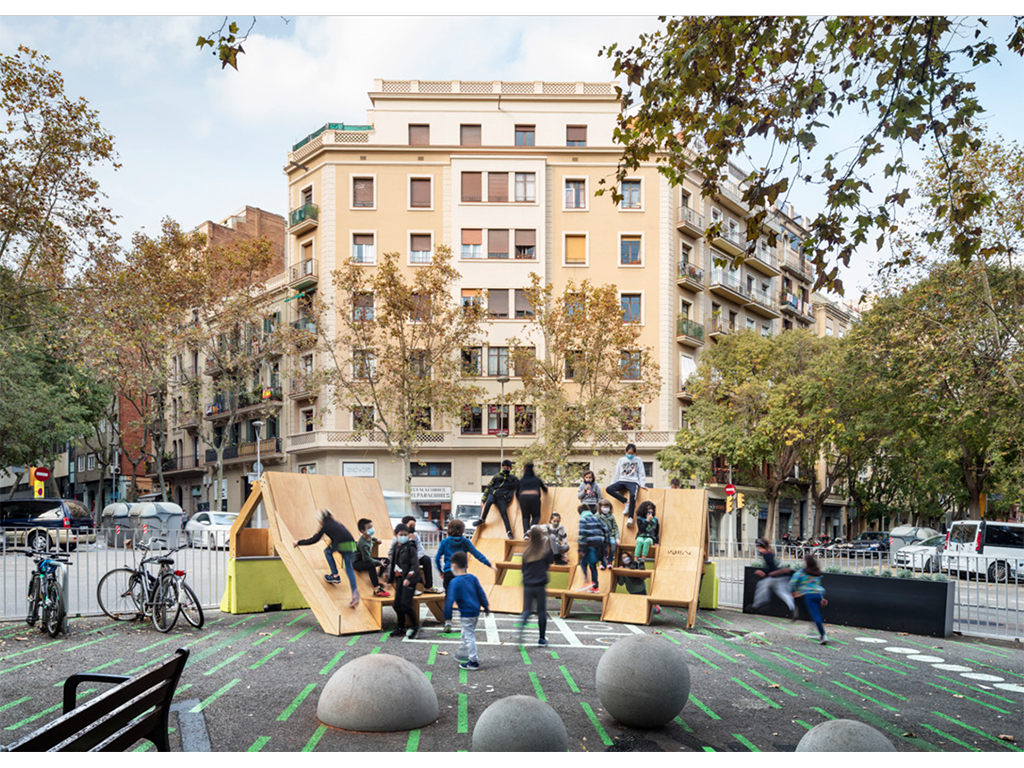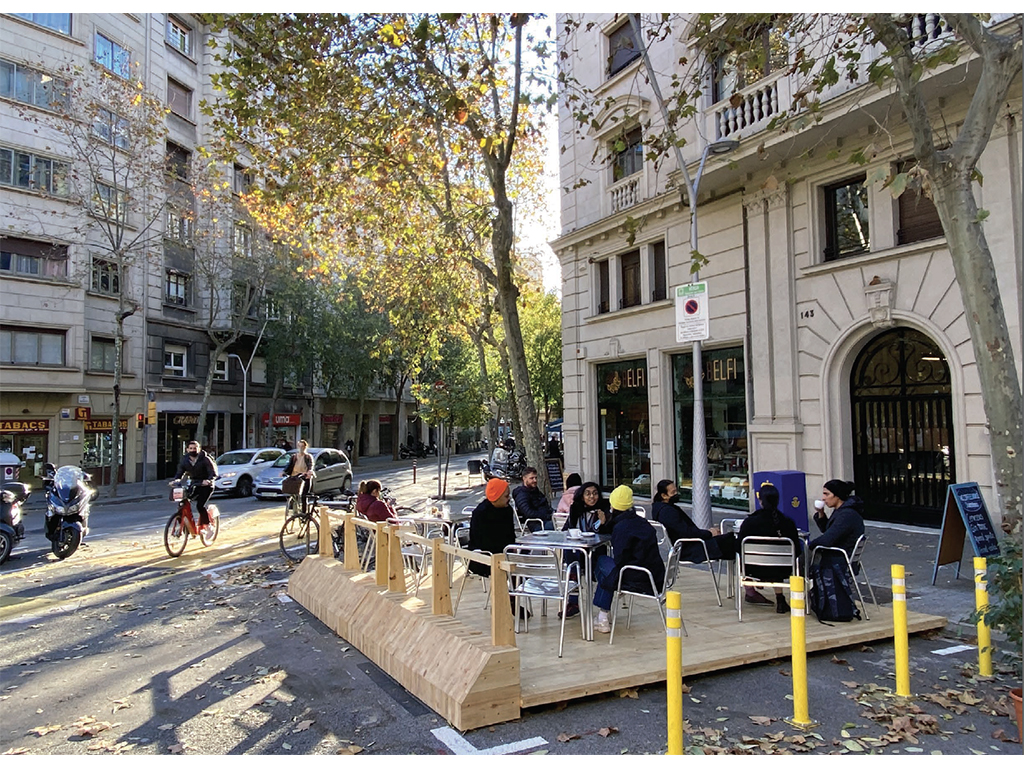 Ultimately, the process results in pilot installations documented as an open-source repository of knowledge related to urban planning, mobility, social behaviour, and temporary urban elements that can be reproduced anywhere in the world.
Year Completed: 2020
Duration: 6 months
Site(s): Barcelona, Spain; Milan, Italy; Espoo, Finland; Guimarães, Portugal; Budapest, Hungary
Budget: 350.000€ (10.000€ per prototype)
Parent Program(s): European Institute of Innovation and Technology (EIT) Urban Mobility Covid-19 Response Call
Awards: EIT Success Story
Project Coordinator: Laia Pagès (CARNET)
IAAC Project Managers: Vicente Guallart, Michael Salka
Partner Organizations: CARNET Future Mobility Research Hub (CARNET), Polytechnic University of Catalonia (UPC), Elisava Barcelona School of Design and Engineering (ELISAVA), City of Milan, Environment Mobility and Territory Agency of Milan (AMAT)
Collaborators: Polytechnic University of Milan (Polimi), FabLab Budapest, Aalto Fablab, School of Architecture of the University of Minho (EAUM), Polytechnic University of Valencia (UPV)
Website: https://furnish.tech/
Prototype 1:
Team: EAUM & I+D+ARQ
Prototype name: AEIOU (Amplification Element for Interactive Open Urbanism)
City: Guimarães (Portugal)
The AIEOU design approach considers the urge of expanding the public urban space during the pandemic crisis. The proposal addresses one of the main challenges identified by the municipality of Guimaraes: to promote new safe devices of cultural expression in the public space, namely for festivities that are rooted in their social and cultural heritage. One example is the Nicolinas celebration, initiated in the 17th century, which traditionally gathers the population in the city centre for playing, dancing and singing. Such a cultural event has a big impact in the identity of the community. Numerous examples of yearly popular celebrations in European cities have been cancelled or affected this year due to the COVID-19 Pandemic, such as Las Fallas (Valencia), St. Patrick's Day (Dublin), Carnival (Venice), Vappu (Finland), among many others.
Considering these premises and context, a set of portable autonomous spatial devices with megaphone-like shape were designed to amplify the sound of drums, for the Nicolinas celebration, in the city of Guimaraes. Named AEIOU (Amplification Element for Interactive Open Urbanism), these devices are intended to generate new ways of expressing a traditional event, by means of an interaction that keeps social distancing but simultaneously reaches the greatest number of people, spreading the positive feeling that is present in such a traditional celebration, expanding the public space by amplifying and projecting the music and joy of the celebration
Prototype 2:
Team: BP GANG
Prototype name: BP GANG
City: Budapest (Hungary)
Although social distancing is necessary to reduce the spread of the disease, if not implemented correctly, such measures can also lead to the increased social isolation of people most in need of support and care. Due to the pandemic, human connection and culture is limited to our homes and its immediate environment. From singing on balconies to courtyard concerts, communities improvised new forms of interactions and rituals while sharing experiences based on mutual trust.
As their location, BP GANG chose the courtyard and the suspended corridors of a typical tenement house in Budapest. By reconsidering the site, they focused on transforming the common spaces of the block into new cores of community life. Creating new daily rituals, giving an opportunity for safe gathering and providing space and auditorium for plays and concerts were the main aspects that led us in our project.
BP GANG implemented their installation in two different areas of the building. In the corridors were placed CNC milled plywood cutty-stools and windowsills to invite the residents to use this common area as their own balcony. The courtyard was divided into a 50×50 cm grid system and 20 digitally fabricated furniture item placed at safe distances. Each furniture item consists of two materials. Due to the heavy bottom we promote the safety rules, concrete made the elements stable and hardly moveable while the plywood top made the blocks user friendly. The furnitures differ in size and function: the smallest piece is designed for seating, the highest for standing while the medium one is for leaning. Since the joints are the same, the furniture is easily variable
Prototype 3:
Team: NOT-19 (Aalto Fablab)
Prototype name: Konch
City: Espoo (Finland)
Konch expands collective space with clusters of multipurpose platforms where people can sit, have a coffee, enjoy a conversation or participate in a discussion. Their design will make it possible to reconfigure the space depending on the context. Platforms are interconnected via a radio link to give the possibility to amplify one's voice in different communication settings. A few possible use-case scenarios discussed below:
OUTDOOR LECTURE SPACE
It is a fact that viruses are less likely to spread if you are in a well ventilated space. Outdoors can be considered as one of the best of the kinds of spaces. How about making lectures possible outdoors even during winter time? Our project is going to prove that it is possible.
PARTICIPATORY SPACE
Discussions between individuals and groups do not have to happen always over Zoom. Our platforms provide the safe distance while maintaining a hi-fi radio link in-between them. Each platform has a built-in microphone and immersive speaker system that makes it possible to listen to the other closeby platforms discreetly while preventing sound-leaks.
MEETING SPACE
Passive hangout coffee space for people who want to get away from it all. A place to relax and enjoy one's home-made lunch or take-away coffee. Place to meet fellow students and like-minded people to discuss new ideas for the new-normal infused world.
Prototype 04:
Team: UNPark
Prototype name: MUE:SLI
City: Milan (Italy)
MUE:SLI (Mobile Urban Element: Sport, Leisure and Inclusion) is the digital fabrication project developed by the UNPark team of the Politecnico di Milano + Ideas – Bit Factory for the European Call FURNISH (EIT Urban Mobility).
MUE:SLI is an urban furniture modular system for the public space. Thanks to several plug-ins, it is adaptable to multiple functions and uses related to sport, leisure and social inclusion, in full compliance with physical distancing rules to prevent spread of COVID-19.
The digital fabrication technique adopted to create the modules is slicing. Plywood wooden panels cut by a CNC machine has been intersected and assembled to create benches, tables, vertical supports and game surfaces. Three MUS:SLI have been tested under the Serra Monte Ceneri flyover in Milan from the 4th to the 6th of December 2020. In the days before the installation a tailored tactical urbanism intervention was realized with the support of volunteers and in agreement with the Public Administration, which has also permanently set up two bike ranks nearby.
During the pop-up event, named MUE:SLI KICkOFF and aimed to assess the satisfaction of the inhabitants, some promotional materials (banners, postcards) have been illustrated and distributed to the passers-by in order to inform people on this initiative and the follow-ups. In fact, the whole set of eight MUE:SLI modules will be re-installed on site in the spring of 2021 within the framework of the Pilot Project of UNPark, Polisocial Award 2019.
Prototype 05:
Team: UPC team
Prototype name: Educational Expanded Dispositive for Urban Space & social network (EDUS point)
City: Barcelona (Spain)
Under the conditions derived from the COVID-19 and the protocols for the use of spaces and physical distancing, the UPC proposes a new urban furniture system in order to experiment with urban relations and synergies, focusing on educational spaces. Based on the strategic location of an ephemeral and itinerant architectural device, the system is intended to:
1) Intervene quickly with the participation of the citizen, bringing more active, agile and informed possibilities for decision-making on the management of urban space.
2) Promote proximity relationships. From the study of existing relationships, attractor and daily uses, travel flows, micromobility, and adapting its daily utilizations to the environmental conditions.
3) Extend educational activities and uses, beyond classrooms and centers. From the appropriation of outdoor spaces, and of all kinds of public spaces and facilities.
4) Empower students, teacher and citizens to become actors of ICT's and the knowledge society through an artifact that becomes a classroom, a set and a meeting place at the same time.With the spirit of proposing an intervention module that is usable and adaptable in various places and conditions, being scalable and replicable, a pilot project is proposed that includes:
Design of a removable architectural device and basic installation kit. + Urban strategy with possible locations in proximity to an educational center. + Design of thematic contents according to the location of the module. + Design of an accessible interactive digital interface. + Design of a sensorization and data collection system. + Design of a web mapping platform, real time. + Design and realization of participation days. + Analysis of results and formulation of proposals. + Proposal of itineraries, scalability and future replicas.
The interventions will allow continuous learning and experimentation on the use and appropriation of urban space by citizens. Transdisciplinarity is encouraged and proposals are made that cross-sectionally address different issues for tactical, urgent, resilient and proximity urban planning.
Prototype 06:
Team: Elisava team
Prototype name: VORA (Safe Occupiable Limit for Tactical Public Space Extension)
City: Barcelona (Spain)
Safe Occupiable Limit for Tactical Public Space Extension
VORA is a prototype to consolidate the temporary public spaces that have occupied streets in response to the COVID-19 crisis. It forms a limit that can be played on and appropriated, encouraging new uses for the public spaces that have been expanded in the areas near schools. VORA builds a safe boundary between cars and these new pedestrianized spaces, where users can engage in leisure, educational and cultural activities.
VORA is a system, not a specific object. Its size and layout can be adapted to any site to generate a safe limit that will protect and activate expanded pedestrian space. Once the system is installed, VORA's plug-in components can be rearranged according to the needs of the site with the addition of slides, steps, benches or combined playscapes.
VORA aims to promote the appropriation of outdoor public spaces to increase the number of COVID-19 safe spaces.
Prototype 07:
Team: IAAC
Prototype name: Open Terrace
City: Barcelona (Spain)
To enable restaurants and bars to remain open during COVID-19 while respecting social distancing requirements, the city of Barcelona authorized more than 2.600 terraces to occupy what was formerly street or parking space. Though these reclamations represent an encouragingly widespread step toward further pedestrianization of the city, the unfortunate reality is they still feel very much like street space; chairs and tables are placed directly on the asphalt and, to separate patrons from traffic, officials have installed infamously ugly concrete Jersey barriers and obnoxiously yellow plastic bollards. Regardless, these temporary terraces have proven a crucial lifeline for bar and restaurant owners, as well for citizens' wellbeing. Thus the need to make these temporary spaces not only safe, but also inviting and comfortable, is of the utmost priority.
Accordingly, within the FURNISH (Fast Urban Responses for New & Inclusive Spaces and Habitats) project funded by European Institute of Innovation and Technology (EIT) Urban Mobility group – an international initiative to make public spaces safer and more attractive for use during COVID-19 by combining local digital fabrication with tactical urbanism strategies – IAAC's Valldaura Labs and Master in Advanced Ecological Buildings & Biocities (MAEBB) class of 2020/21 produced and installed a prototype urban element system comprising wooden platforms to raise the level of the terrace to match the level of the sidewalk and massive wooden curbs to replace the concrete barriers which are also capable of supporting a vast catalog of various 'plug-in' furniture components such as benches, planters, bike parking racks or railings.
The prototype was installed for testing at the terrace of The Coffee House Barcelona, on the corner of Carrer de Casanova and Carrer de Valencia. This particular site was selected due to its exemplification of the typical chamfered corner intersection characteristic of Barcelona's Eixample district.
The system, called Open Terrace, is constructed from FSC certified and regionally sourced redwood pine and beech, and was fabricated entirely at Valldaura Labs in Barcelona's Collserola Natural Park using computer-numerical-control (CNC) machinery, laser cutters, 3D printers and carpentry tools. All connections are made with wooden dowels or joints, and weather-proofed with bio-based linseed oil and turpentine. The 3D printed components are made of polyethylene terephthalate glycol (PET-G) filament. Therefore, all components are optimally disassemblable, compostable or recyclable. Open Terrace is a rapidly deployable, modular design; elements can easily be reconfigured to suit different conditions and uses. Open Terrace is also fully open-source. All fabrication files will be made available for free download from furnish.tech, such that Open Terrace can be replicated by anyone anywhere with access to basic materials and Fab Lab tools.